History of Sonlight Ministries
Seeing generations transformed for God through education
Roger and Norma Alexander moved to Haiti in 1983 with their two young daughters, Amber and Cara.  They moved to the northern city of Port-de-Paix, and intended to train and teach church leaders.  Their goal was to raise up pastors from among the Haitian people who would minister to their own people.  It soon became clear that Voodoo (a religion combining African animistic cult worship and elements from Roman Catholicism) was very entrenched in nearly every aspect of people's lives, and unteaching it would be nearly impossible.  The Alexanders determined then to teach the message of Christ to young people, before Voodoo and elements of animism were so ingrained, and so was born the idea of a Christian English immersion school.
In 1986, Roger and Norma started a preschool class in their living room with four young children.  All subjects were taught in English, and Bible was a major part of each days' lesson plan.  It was a success.  The following year, another of the Alexanders' daughters graduated from the University of Missouri-Columbia with a master's degree in Education, and Carmen moved to Haiti to become the director of Sonlight Academy.  Sonlight Academy started with a preschool class, and as those students advanced each year, a grade was added to the program.  Since English is not the national language of Haiti, and Haitian children do not speak English, Sonlight Academy only admits preschoolers each year, who then advance through to twelfth grade. 
Soon, land was purchased adjacent to the Alexanders' home and construction began on the school building.  As Sonlight students came to know Christ, the staff at Sonlight decided to start a church for Sonlight staff, students, and their families, where teaching would be consistent with what was taught in Bible classes at the school.  The new church began with an English service, but soon added a Creole service as well.  Eventually, as the Creole service grew, the English service was discontinued.
Today, Sonlight Academy has over 320 students enrolled, and Sonlight Church has more than 250 members and regular attenders at weekend services.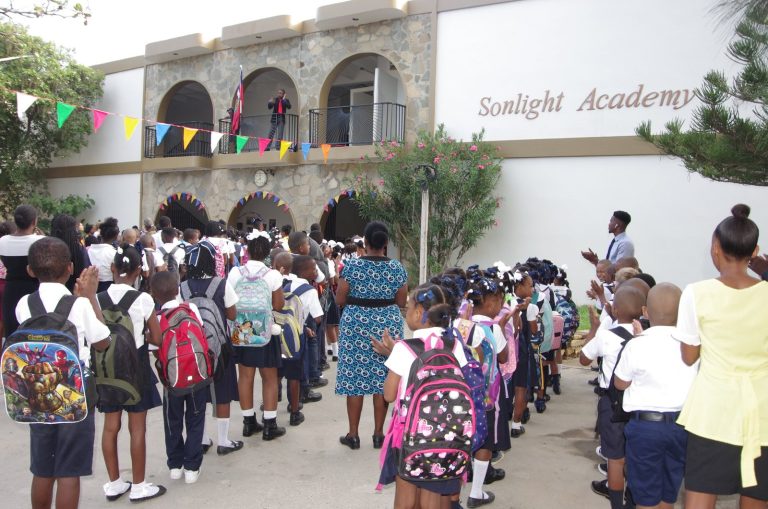 Sonlight Bible College was opened in 2004 and operated until May 2021. The college offered degree programs in Bible Studies and Christian Ministry. Bible College students took intensive English courses before studying in the Bible degree programs.  There were over 120 graduates of this program, some of whom are involved in three new church plants in the area.
In October 2012, Sonlight opened SonCenter, a multi-purpose building which houses the growing church congregation, and also has a gymnasium, offices, and classrooms.  God continues to bless and grow the ministry of Sonlight, with a church plant in another part of Port-de-Paix, and several Sonlight graduates in ministry in Haiti and abroad.